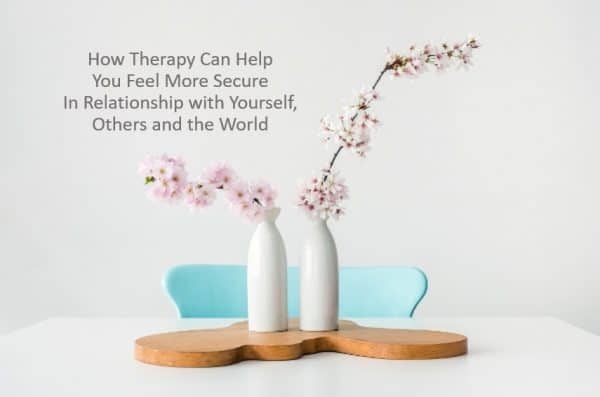 Whether it is with yourself, with others or in the world – feeling insecure causes much anxiety and suffering. As part of the National Psychotherapy Day Blog Challenge, I set therapists from around the globe the task of writing about how therapy can help you feel more secure in yourself, in relationship with others and your world. The counsellors and psychotherapists have written some inspiring blogs informed by attachment theory and other evidence-based trauma modalities.
How Therapy Can Help You Feel More Secure In Relationship with Yourself, Others and the World
Feel More Secure Inside with Attachment Based Therapy
By Emma Cameron
Goodbye Insecurity, Hello Self-Worth
By Karen Holmes
Pink Reveals What Saved Her Marriage, She Say's – "It's the only reason we are still together."
By Melissa Ferrari
Why Love Matters, How Affection Shapes a Baby's Brain
By Jodie Gale
How to Meet Yourself In Psychotherapy
By Toni Jackson
The Best Attachment Focused Parenting Books: Building a Secure Base
By Jodie Gale
How Psychotherapy Can Help Improve Your Sense of Self
By Amanda Robins
A Couple's Retreat Is The Best Way To Focus on The Two Of You
By Melissa Ferrari
Wired for Love Relationships: Are You an Island, Wave or Anchor?
By Clinton Power
Complex Trauma and Relationships
By Amanda Robins
How Secure Are You? Notes on Attachment Theory
By Andrea Szasz
Own Your Life. Love Your Life. How to Live Life With No Regrets
By Kerry Sutton