Therapists in therapy is a hot topic in training colleges. In one of my daily psychology alerts a few years ago, I came across the latest music and video news in Rolling Stone – I found myself laughing out loud at Lena Dunham and boyfriend Jack Antonoff's first collaboration for his solo debut, 'I Wanna Get Better'.  John Bliston writes,
'Breakups are never fun, especially when they happen first thing in the morning. And when your job as a therapist is to help other people fix their problems when you can't even seem to figure out your own, it's even worse. Such is the painfully hilarious setup Lena Dunham crafts for the video to "I Wanna Get Better," the first single from Bleachers singer (and Dunham's boyfriend) Jack Antonoff.'
On a more serious note, it got me to thinking about the number of professionals within the mental health and helping vocations who have never had their own counselling or psychotherapy.
When I started my training, there was an age requirement to be at least thirty before potential trainee therapists were accepted into classic, depth psychotherapy training. If the applicant was younger, they must have had significant life experience and a commitment to their own personal and spiritual development.  Entry was based on rigorous application and therapists had to be in 1-5 times weekly personal psychotherapy for the duration of their training – anywhere from four to eight years.  If at any time throughout the training the student and/or supervisor felt they needed to process their psychotherapy training at a deeper level, the student took some time out of the training to do this.
How times have changed.
Academically based PhDs by thirty are not uncommon. Many training organisations do not require personal therapy as part of their psychology, social work, counselling or psychotherapy degrees (however personal therapy is at least encouraged/required in psychotherapy private training organisations). Most professional associations do not require personal therapy as part of their registration requirements (although PACFA in Australia updated their College of Psychotherapy requirements a few years ago and psychotherapists are now required to have 200 hours of personal psychotherapy to become a member).
In my opinion, not requiring students of therapy to participate in their own therapy is an act of professional irresponsibility and negligence.
There is the risk of major harm when mental health workers, psychologists, social workers, counsellors and psychotherapists have not sat in the client's chair before working with clients. With far greater ethical implications, imagine if a dentist didn't brush her teeth or a personal trainer who didn't exercise?!
Why your therapist should be in therapy!
In The Independent, Master therapist, Irvin Yalom states,
'It is, of course, mandatory for people entering this field to have a long personal experience with therapy. I know I certainly have and have come back to it several times whenever I have had some kind of crisis in my life.'
In Can we be in the counsellor's or psychotherapist's chair when we have not been in the client's chair, Elana Leigh states,
'…there is a profound quality difference between those counsellors and psychotherapists who have experienced an in-depth psychotherapy and those who have not.'
In a series of tweets, Jonathan Shedler writes,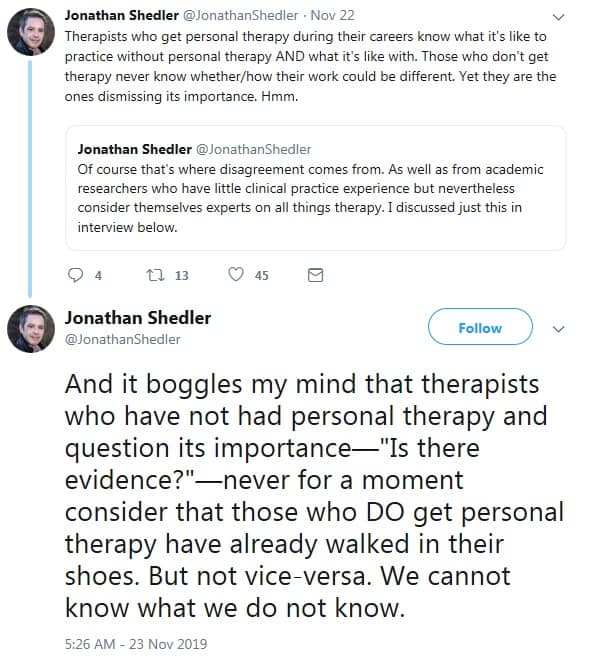 Here are just a few of the reasons your therapist should have participated significantly in therapy:
Boundaries: If therapists don't have a have a deep understanding of themselves, their ability to hold boundaries may be jeopardized. Boundary violations range from abusing power, enabling or caretaking clients, holding sessions in cafes or other unsafe places and using us to meet their emotional, psychological and physical/sexual needs. Leigh suggests that therapists should be engaged in constant soul searching in order to secure the boundaries between their problems and those of the people that they are serving.
Projection/Transference/Countertransference: A wide range of feelings and experiences get stirred up in therapy so therapists need to have a deep understanding of what belongs to them and what belongs to their clients. This is about therapists owning their own their own shadow and light, working through their family history and life story, healing traumas and working with their defences, feelings and needs. Without doing so, these may be projected onto us.
Empathy: Leight writes, 'Being a client is a complex multilayered experience and embraces many primitive needs, usually relating to issues of dependency and all that encapsulates.' If therapists have not experienced this phenomenon and haven't worked through their own dependency issues this will impact the all-important therapeutic relationship, their capacity for empathy and has the potential for therapists to use the therapeutic relationship to fulfill or reject their own dependency needs. You can read more about dependency in my blog on weekly therapy.
Suffering: Therapists who have been in their own psychotherapeutic counselling or depth psychotherapy are able to see, hear and sit with us in the depth of our despair. They can do this because they have actively engaged in working through their own suffering. They don't rush too quickly to provide a sticky plaster fix or a quick fix solution because they know this does not provide long-term change. They understand that our symptoms are a cry from the deepest part of our souls and carry the value, meaning and purpose of our suffering – which without exploration will go undiscovered and unintegrated.
Self-Care: Vicarious trauma and burnout are just two of the potential hazards of being a psychologist, social worker, counsellor, psychotherapist or other helping professional such as a life-coach, nurse or a doctor. It is impossible for health professionals to be present to us if they are suffering from burnout. Most psychotherapists in Australia and the UK have ongoing clinical supervision – this is not therapy and it is not enough. Therapy, along with supervision, exercise, a balanced diet, sleep and spiritual practice create a good and ethical self-care package.
If you are looking for a therapist, it is perfectly acceptable, and advisable to ask if  they have had their own therapy.
This list is not exhaustive so feel free to add your comments below – I'd love to hear your thoughts on this topic 🙂