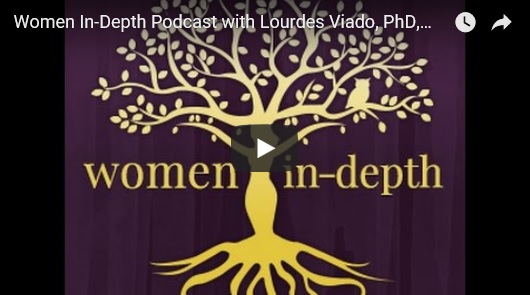 Binge and Emotional Eating: My Top 6 Women In-Depth Podcasts
Are you binge or emotional eating? Using food to numb feelings, to sooth yourself or as a way of seeking connection with transpersonal qualities such as love? 
Then these Women In-Depth: Conversations About the Inner Lives of Women podcasts are for you! The whole series is a wonderfully rich, depth exploration into the feminine psyche.
Here are my top 6 podcasts to help women who struggle with binge eating, emotional eating, comfort eating and overeating.
One: Podcast 11: Childhood Emotional Neglect: The Invisible Experience with Dr. Jonice Webb
Underlying most eating disorders, disordered eating and other food, weight and body image concerns, is an experience of childhood emotional neglect (CEN). If our feelings and needs have been neglected, we may have turned to food (or other substances) as a way of numbing or soothing ourselves.
In this podcast, clinical psychologist Dr. Jonice Webb discusses what childhood emotional neglect really is. She says that it is often hard to understand because it's about what DIDN'T happen in childhood, and even though it can be subtle and invisible, childhood emotional neglect has a devastating impact on many individuals.
If you love this episode, you can also listen to Dr Jonice Webb's follow up interview: 62: After Childhood Emotional Neglect: Healing Your Relationships with Your Partner, Children, & Parents
Two: Podcast 21: Healing the Mother Wound with Bethany Webster
Bethany Webster is a writer, transformational coach, international speaker and a midwife of the heart. Her work is focused on helping women heal the "mother wound" so that they can step into their full feminine power and potential.
Webster writes,
"Difficulty and challenges between mothers and daughters are rampant and widespread but not openly spoken about. The taboo about speaking about the pain of the mother wound is what keeps it in place and keeps it hidden in shadow, festering and out of view…. The mother wound is the pain of being a woman passed down through generations of women in patriarchal cultures. And it includes the dysfunctional coping mechanisms that are used to process that pain."
The mother wound can manifest in conditions such as addiction, depression and eating disorders such as binge eating, bulimia and chronic dieting/restricting.
In this podcast, Bethany Webster discusses how the mother wound affects all aspects of a woman's life, the devaluation of the feminine, why this isn't simply bringing up the past and the mother wound as a tool of empowerment.
Three: Podcast 63: Gifts & Challenges of the Highly Sensitive Person with Julie Bjelland, LMFT 
Women suffering with food, weight and body image concerns are more often than not, highly sensitive people (HSPs).
Author of Brain Training for the Highly Sensitive Person: Techniques to Reduce Anxiety and Overwhelming Emotions, Julie Bjelland, has a passion for, and expertise in neuroscience and determining how to successfully train the brain so people can live their best lives.
Julie discusses in this episode the definition of high sensitivity, the correlation with health issues, self-care and other techniques to manage high sensitivity.
If you love this episode and want to learn more about HSPs, check out episode 53: Beyond the Myths: Understanding the Highly Sensitive Person with April Snow
Four: Podcast 37: Women and Anger with Michelle Farris, LMFT
Many women who binge or emotionally eat squash their anger down with food. They haven't learnt how to be with their rich emotional life. It often feels safer to eat down the anger (and the pain and sadness underlying the anger) than to express it in an assertive and healthy way.
Michelle Farris, LMFT. Michelle is a licensed marriage and family therapist. She teaches others how to be more authentic in relationships by healing their anger and codependency.
In this episode, Michelle discusses how codependency is related to anger, how anger can misrepresent women, people-pleasing and anger, how we can reconnect with our anger in a healthy way and learning how to say no!
If you identified with the topics in this episode, you might also enjoy episode number 22: Overcoming People Pleasing with Sharon Martin, LCSW
Five: Podcast 59: Cracking the Hunger Code Through Storytelling and Metaphor
Anita Johnston, Ph.D. is the author of Eating in the Light of the Moon: How Women Can Transform Their Relationships with Food Through Myth, Metaphor, and Storytelling  and the co-creator of the Light of the Moon Cafe, an online e-course and support circle.
In this episode Anita discusses, fitting in versus. belonging, the significance of the feminine in understanding disordered eating, what the food choices/qualities in disordered eating can reveal and how to redefine our relationship with food.
Six: Podcast 09: Disordered Eating: A Search for Wholeness with Jodie Gale
In, It's not about the food', Normandi & Roark write,
'At the heart of every eating disorder, whether it is compulsive eating, bulimia or anorexia, there is a cry from the deepest part of our souls that must be heard. It is a cry to awaken, to embrace our whole selves… It is a cry to deepen our understanding of who we really are. It is a longing to know ourselves in mind, body and spirit'.
The above spiritual context is often neglected within eating disorder and other food, weight and body image recovery treatments. In this podcast, I address the underlying spiritual context and how recovery is an unfolding journey of the authentic self/soul. I also share about my personal recovery from bulimia (20 years this year!), how we must work with the parts and the whole and most importantly – how we are whole, not broken, even though we often feel this way!
Bonus! Podcast 97: Weight Discrimination and Disordered eating
"I have a body but I am also more than my body and you know, there's this whole other rich world inside of me called the soul." Jodie Gale.
Since publishing this blog, I was interviewed for a second time on the Women In-Depth podcast series. In this episode I share about my work as a disordered eating / eating disorder counsellor and psychotherapist on the Northern Beaches of Sydney, confronting internal weight discrimination, overeating, undereating and when eating is disordered, modelling good food habits for children and connecting with Soul Self.
Do you want to transform your relationship with food, body & soul®? Start here by clicking on the link for a copy of my free eBook, 4 Ways to Befriend Your Body.