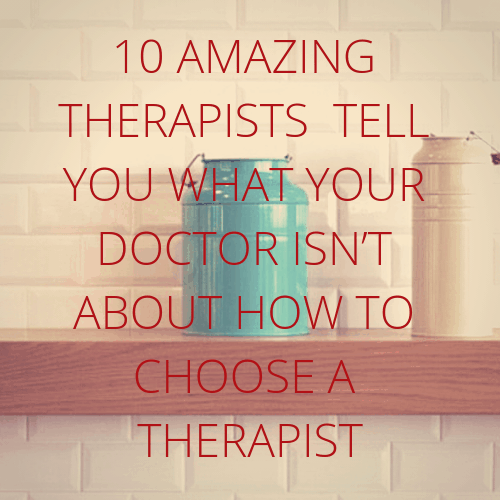 Image Credit: Nick Fewings
10 Amazing Therapists Tell You What Your Doctor Isn't About How to Choose a Therapist
Did you know that you actually do have a choice when it comes to your counsellor or psychotherapist? Check out these articles explaining why having a choice matters and how and where to find a therapist near you!
Psychotherapist, counsellors, psychologist, social workers, and psychiatrists …….How do I find a therapist?
By Andi Szasz
What your doctor won't tell you about mental health treatment – the problem with the medical model
By Amanda Robins
So in answer to your question, I'm not OK…Now what?
By Rosie Jackson
The Beginner's Guide to Finding a Good Therapist in Essex
By Emma Cameron
Did you know you have a choice?
By Karen Holmes
Important things you didn't know about counselling
By Kate Kernick
5 Things you must know before seeing your GP for a Mental Health Care Plan
By Kerry Sutton
6 Ways to Find the Right Therapist For You
By Kylie Lepri
Why The Best Counsellor For You, May Be Someone Your Doctor's Never Heard Of
By Toni Jackson
What your GP isn't telling you about your mental health support options
By Frances Carelton
The Most Important Thing Your Doctor Doesn't Tell You About How to Choose a Therapist
By Jodie Gale
More articles about how to choose a therapist

By Louise Chunn
Psychotherapist, counsellor, social worker, life-coach, psychologist, psychiatrist – what's the difference?
By Jodie Gale
Dr. Elaine Aron
How to choose the best therapist or counselor for you
By GoodTherapy.org
How do I find out which type of therapy is best for me?
By the UK Council for Psychotherapy
Choosing a counsellor or psychotherapist
By The British Association of Counselling and Psychotherapy
By GoodTherapy.com.au
Mental health treatment denied to customers by giant insurer's policies, judge rules
By The New York Times
Private health cover needed for counselling and psychotherapy
By the Psychotherapy and Counselling Federation Australia
These are your go-to websites in Australia to find highly qualified counsellors and psychotherapists
NB: If you are reading from outside of Australia, try searching for your National Psychotherapy Association.
The Psychotherapy and Counselling Federation Australia (PACFA) https://www.pacfa.org.au/find-a-therapist/
Australian Counselling Association (ACA) https://www.theaca.net.au/find-registered-counsellor.php
Goodtherapy.com.au https://www.goodtherapy.com.au/
Australia Counselling https://www.australiacounselling.com.au/
Trauma Support Directory https://www.traumasupport.com.au
The Australian Clinical Psychology Association (ACPA) https://acpa.org.au/find-a-clinical-psychologist/
The Australian Association of Social Workers (AASW) https://www.aasw.asn.au/find-a-social-worker/search/
This post is part of the National Psychotherapy Day Blog Challenge for therapists to educate the public about psychotherapy and counselling.