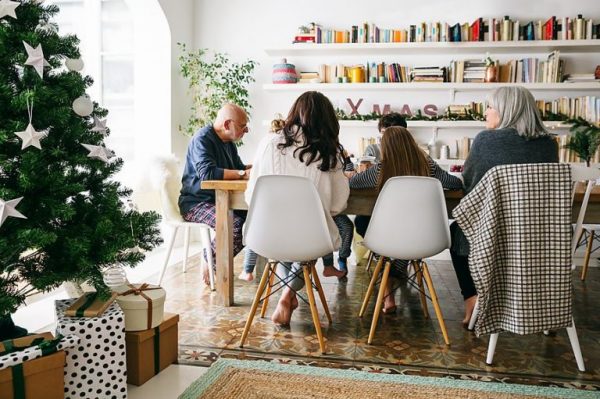 30 Alternatives to a Dysfunctional Family Christmas
There are many reasons you may be dreading Christmas:
– You are completely fed up with consumerism
– You are exhausted and need a break from it all
– You come from a Christmas free tradition
– You are suffering with or recovering from disordered eating or other addiction
– You are single and you are longing for a relationship
– You have lost someone close to you
– You are lonely and/or don't have any family close by
– You are suffering with infertility and can't bear to be around others with children
Or maybe… Your family is just plain dysfunctional and it is too unhealthy for you to be around them right now.
Sometimes it doesn't matter how much self-development work you have done – it is easy to get hooked into old patterns and ways of being. Martha Beck writes, "There's nothing in the world as sticky as a dysfunctional family. You can put half your life's savings into therapy—good therapy, effective therapy—and, 15 minutes into a holiday reunion, you still become hopelessly enmeshed in the same old crazy dynamics. Your assertiveness training goes out the window and a mere sigh from your grandmother triggers an attack of codependency so severe you end up giving her your house."
I love the ideas in 5 Ways to Survive Your Next Family Gathering and would of course recommend giving them a go – especially if you have a tendency to push others away and/or isolate yourself. But sometimes, the only way to take care of yourself is to ditch the self-inflicted guilt and say no! So what to do on Christmas Day if you don't have family, don't want to spend it with family or if you want to avoid Christmas altogether?
30 Things to do in Sydney (and abroad) on Christmas Day
1. Lend a hand to charity
Check out the Wayside Chapel Christmas Day Street Party. It has one main objective – to bring the community together. Each year, they put on a Christmas lunch with all the trimmings and fill the street with music and dancing. The event is a day for the whole community. Activities include: breakfast, Christmas church service, entertainment and Christmas lunch.
2. Head down to the beach for a swim
Listen to the roar of the waves. Soak in the sea air. Feel the ocean breeze on your face and the warmth of the sun on your skin. A trip to the beach can reduce stress and increase happiness.
3. Keep calm and read a book
With the glorification of busy seeping into everyday life, why not settle in with a novel you've been meaning to read. Check out wordsmith, Lara Winter-Hébert's 10 Benefits of reading.
4. Check out the latest flicks
Cinemas all around the globe are open on Christmas Day.
5. Rent/download a movie for some movie therapy
Movie therapy can help you to reframe the way you think and feel, as well as help you to deal with life's ups and downs. Check out these dysfunctional family DVDs.Who knows, you may even begin to feel a sense of gratitude for your own dysfunctional family after watching these
.
6. Spend Christmas with your family of choice
Your family of origin doesn't have to be your only family. It may mean spending some time redefining what 'family' means to you and forging your own traditions as you move forward in life.
7. Go to a church service
Christmas has been celebrated for over 2000 years, yet in recent times it has become more about presents, consumerism, food and booze. Go back to its roots and check out a Christmas church service. Hear the church bells ring. Listen to the story of Jesus. Find solace and sanctuary. Go with an open mind and connect with something greater than you. Some options are an Interfaith service (Pitt Street Uniting Interfaith Service has closed but look for one close to you), and traditional services at St Mary's Cathedral and St Andrews.  Otherwise google a service in your local area. Although no service unless Christmas Day falls on a Sunday, the Baha'i Temple at Terry Hills is also open for quiet reflection.
8. Sing Christmas Carols
Sing Christmas carols on Christmas Day in the city. Singing provides a wide range of physical, emotional, psychological and spiritual benefits. Some of these include an increased heart rate, improved breathing, good posture, enhanced mood and a sense of connection with others.
9. Have lunch with the animals
Zoos are open on Christmas Day – some even put a lunch on. Check out Taronga or Western Plains Zoo.
10. Take a bright walking tour
Take a bright walking tour of Sydney and admire the magical light projections, Christmas tree and lights, shop window displays and the infinite choir.
11. Go bush for the day
There are many fantastic walks around the Sydney foreshores that feel as though you have gone bush! Check them out at Sydney.com.au &  Wild Walks.
12. Discover more about Indigenous Australians and their spiritual ancestors by ferry
Discover more about Indigenous Australians and their spiritual ancestors by taking a day trip from Manly to Parramatta via Circular Quay .  Sydney ferries run a Sunday service on Christmas Day. From North Head to the Harbour and down the Parramatta River – the journey is steeped in Indigenous history. Grab a copy of The Little Red Yellow Black Book to brush up on how Indigenous Australians view the land and their history.
13. Climb the Sydney Harbour Bridge
To Sydneysiders, the Bridge is more than a photogenic landmark. It's much bigger, much more important than that. You've driven it, walked it, drifted under it and felt that feeling when you glimpse it through the window of a homeward-bound Boeing.  Now climb it on Christmas Day.
14. Enjoy a Christmas Day picnic or BBQ
Enjoy a Christmas picnic or BBQ in one of Sydney's National Parks or best picnic spots.
15. Dance on Bondi Beach
Dance at the Sunburnt Christmas Day Festival. 4000 party goers. 24 artists. 3 stages.  Dance has been fundamental to human life and culture since the time of our earliest ancestors; a form of self-expression, communication and celebration of life and community. Dance is therapeutic and movement furthers the emotional, cognitive, physical and social integration of the individual, based on the empirically supported premise that the body, mind and spirit are interconnected (Reference: DTAA). This offering is no longer available – check out my Music/Dance Therapy Pinterest Board!
16. Host an orphans' Christmas lunch
Open your home to those who are on their own, visiting Sydney for work, in town on holidays or who wish to take a break from their own family!  Get the conversation going with the Kikki K Christmas conversation starters. Nice idea but can't afford it? Ask everyone to bring a plate or split the food bill.
17. Catch a 360 degree view of Sydney
Leave the hours of food preparation and hundreds of dishes at home. Catch a 360 degree view of Sydney while eating a 4 course Christmas lunch at the revolving O Bar and Dining.
18. Explore Sydney on a food safari
Check out Yum Cha at the Marigold in China Town, Turkish delights in Auburn, Lebanese food in Punchbowl and Vietnamese in Cabramatta.
19. Stay at a posh hotel
The Shangri-La has fantastic views over Sydney, a Christmas Day lunch and the Chi Day Spa, pool and gym are all open to guests.
20. Take time for solitude
Solitude is about making a conscious choice to be alone, regardless of whether you have a multitude of friends or not. Solitude is different to loneliness; solitude is about connecting with your whole self whilst loneliness is about feeling like something is missing. On your day of solitude, choose to take care of yourself, practice self-reflection, be creative, start an art journal , a vision board or reflect on your New Year's Resolutions for the coming year, change up a room that needs new life, take a warm bath, refuel or sleep if you need to.
21. Get in touch with your spiritual Self by walking the Sydney Labyrinth
Head to Centennial Park and walk the Sydney Labyrinth. When walking the labyrinth:
Release something you wish to let go of on the way in
Receive the spiritual message or quality (e.g. peace or calm) at the centre
Engage your will and take your learning back into your daily life on exit
Alternatively, head somewhere which holds spiritual significance for you; it could be a sacred site or a beautiful garden.
22. Find inner calm, tranquility and sanctuary at a Buddhist temple
The Sze Yup Temple & Joss House is open 365 days a year. Smell the joss sticks and find inner calm, tranquillity and sanctuary in the heart of Glebe.
23. Check-in to rehab
If you are struggling with anxiety, depression, food, sex, drug, alcohol, gambling or i addiction – check into rehab and start the year anew. Go deep inside, find the real you and connect with others who are suffering with similar issues. Australia's leading and truly holistic treatment centre, Byron Private Rehabilitation Centre provides an avenue for you to explore and create a meaningful way of life, beyond current destructive patterns of thoughts and behaviours. You will be supported through the program by an expert team of multidisciplinary practitioners from both the medical and alternative models of health care to achieve your treatment goals. Nungkari provides clients with a safe and nurturing environment far removed from the clinical atmosphere of a private hospital setting.
24. Camp (or glamp!) at Cockatoo Island
Camp at the water's edge on the northern side of Cockatoo Island and experience the magic of the harbour. On Cockatoo Island you will find a place where history and a unique atmosphere have been preserved by an island location. A place to relax and unwind, yet still only 15 minutes from the centre of Sydney.
25. Spend time in silence
The  Vipassana Meditation Centre in the Blue Mountains runs a 10-Day retreat over Christmas. Vipassana, which means to see things as they really are, is one of India's most ancient techniques of meditation. It was taught in India more than 2500 years ago as a universal remedy for universal ills.
26. Retreat to the Byron Hinterland
Surrender yourself to the beauty and healing cultures of the award winning Gaia Retreat & Spa, nestled in the stunning hinterland region of Byron Bay.
27. Treat your inner child to a Disneyland & California Adventure Land Christmas.
Deck the halls with food festivals, ice skating and all things Disney princesses, Mickey & Friends, Pixar and Star Wars! Immerse yourself in the Disney bubble by staying onsite in a Disneyland Hotel and check out Disneyland Daily for the latest on planning for the Disneyland holiday season.
28. Free your body, mind and spirit at a yoga ashram in South India
The Sivananda Yoga Vedanta Dhanwantari Ashram is set in 12 acres of tropical splendour in the foothills of Kerala's Western Ghats. The natural beauty of Neyyar Dam, the forested surroundings, the cool green coconut tree groves and colourful flower-filled views, all offer an ideal atmosphere for the practice of yoga and meditation. The ashram program covers classical yoga techniques, taught in a warm and friendly environment, helps to instil in guests a deep awareness of the spiritual essence of life.
29. Experiment with conscious living and sustainability at Findhorn Ecovillage in Scotland
The Findhorn Christmas Retreat provides an opportunity to explore your inner nature, as well as to join in with the Findhorn community celebrations and rituals that take place during the Christmas season. It is an invitation to get in touch with stillness and joy.
30. Don't dream of a white Christmas – experience one!
Stopover in Vienna or Salzburg before heading up to the Alps. Seefeld in Austria is like something out of the movies and is my favourite place to spend Christmas. You can soak in the beauty of the Austrian Alps, ice-skate on a lake, take a ride on a horse and sleigh.  Old villages and towns decorate the streets and many have Christmas Markets where the locals offer their wares, and the sweet aroma of hot mulled wine, candied fruits and roasted chestnuts permeate the air.