Psychotherapist, counsellor, social worker, life-coach, psychologist, psychiatrist – what's the difference?
I am often asked about the difference between a psychotherapist and other helping professions.
For many years in Australia, funded psychological services have been monopolized by symptom focused, pathologising and medically orientated approaches. Whilst appropriate for some people, these masculine approaches are not suitable for everyone.
Increasingly, people are looking further afield than GP mental health care plans and making a choice to pay privately so that they can have a broader range of choice regarding their preferred practitioner and treatment style.
The clients who come to my private practice are looking for a more holistic and soulful approach to their health and well-being as well as one which is evidence based and firmly grounded in western psychology; a balance of both masculine and feminine energy.
Psychotherapist
There is an increasing base of evidence which confirms what practitioners and clients of psychotherapy have known for years – psychotherapy really does work.
Clients report healthy lifestyle changes after just a few sessions and many see a significant difference in their lives within three to six months. Psychotherapy is a soulful approach to healing which provides long lasting change and resolution of the pervasive, underlying issues that continue to impact on life and relationships. Psychotherapy works best when sessions are consistent and attended weekly.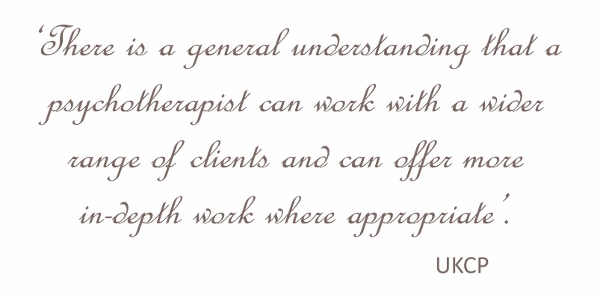 There are many different schools (behavioural, psychoanalytic, humanistic, existential, transpersonal etc) and standards of psychotherapy training range from certificates to Master's degrees. Most psychotherapists work in private practice using a multitude of creative techniques and theories.
Psychotherapists, who have had a classic and rigorous training, would have trained at degree level for at least four years and sometimes up to eight years. Psychotherapists trained at this level are also required to have a significant amount of their own personal therapy per year (approximately 40 sessions per training year) and usually group therapy throughout the duration of their training. This means that they have 'walked the path' similar to that which their clients will be journeying along. This is one of the most important aspects of any helping profession training. If you are seeking depth psychotherapy, choose a psychotherapist who is trained in psychotherapy – unfortunately anyone can say they provide psychotherapy when in fact they may not be trained in this very specific discipline.
PACFA registered psychotherapists in Australia are required to have a certain level of training, supervision and clinical hours under their belt before they are accredited. To join the College of Psychotherapy, they are also required to have at least 250 hours of personal psychotherapy with a trained psychotherapist.
I recently interviewed Jo Frasca about What is psychotherapy? You can listen here.
Counsellor
Counsellors work in a wide range of fields. Counselling normally focuses on a specific issue and tends to be more short-term work, from 6 sessions to 6 months, though not always! Like psychotherapy, counselling works best when it is consistent and attended weekly.
There are different standards of training for counsellors. Some train for a few hours online (this is more support counselling as part of a role in a company), some for up to four years and at Master's degree level. The three main types of counsellors are:
Therapeutic and psychotherapeutic counsellors are able to work at greater depth, using the therapeutic relationship and usually with a wider range of issues.
Some counselling programs require their trainees to participate in their own counselling and some do not. PACFA and ACA registered counsellors in Australia are required to have a certain level of training, supervision and clinical hours under their belt before they are accredited.
Life-coach
A life coach works to help clients maximize their potential. The coach's job is to provide support to enhance the skills, resources, and creativity that the client already has (ICF).
Coaches can gain qualifications through short online courses (again…scary!) or at greater depth through private coaching organisations. Coaches are not trained in counselling or psychotherapy skills – this means they are not trained to work with the 'why' of their client's behaviour, rather, they are trained to work with the 'how' to get better. Many psychotherapy, counselling and psychology trainings contain coaching components.
The ICF requires members to have a certain level of training, supervision and clinical hours under their belt before being accredited. Read more in my blog Everything you need to know about the difference between therapy and coaching.
Social worker
Social work's primary focus is on the social determinants of health. Social workers advocate for social change. They take a holistic view of health and well-being and they work towards maximizing human potential (AASW).
Social workers often work in the fields of child protection, family welfare, youth, women's and refugee services, hospitals and increasingly in private practice. In Australia, a Bachelor of Social Work takes four years and students are not required to participate in their own clinical social work, counselling or psychotherapy sessions. Social workers who provide psychotherapy in private practice should have a post qualification in clinical social work or psychotherapy.
AASW registered social workers in Australia are required to have a certain level of training, supervision and placement hours under their belt before they are accredited.
Psychologist
Psychological theory underpins all helping professions. All of the above have elements of psychology within their training.
Psychology is predominately a medically orientated model which often focuses on diagnosis and symptom reduction of mental illness. Psychologists also use scientific methods to study the mind and human behaviours. They work in many fields: research, health and welfare services, government departments, academic institutions, education, corporations, marketing, training and development and in private practice (APS).
Many psychologists provide cognitive behavioural therapy. Psychologists providing psychotherapy should have a post qualification in clinical psychology or psychotherapy. Psychologists are not required to participate in their own clinical psychology or psychotherapy sessions.
Psychologists in Australia are registered with the AHPRA and can register with the APS  – they must first complete a minimum of six years training and supervision to be eligible.
Psychiatrist
Psychiatry is a medically orientated model. It involves the study of medicine and then training in mental and psychiatric illness. A psychiatrist can prescribe medication.
Training in psychiatry sometimes includes depth psychoanalytic psychotherapy, however, there is an ever increasing focus on prescription based psychopharmacology. If you feel that a psychiatrist is the professional best suited to you, find one who also specialises in talk therapy. Alternatively, participate in psychotherapy alongside taking medication – this will help get to the root of the problem.
The latest evidence shows that psychotherapy works better than medication alone for symptoms such as depression and anxiety.
NB. Training standards vary from country to country. Please check with the appropriate associations and federations for the requirements of where you live.
Photo by Taylor-Hernandez
Join my list and receive your free 31-Day Therapy Photo-A-Day Challenge with photo and story plan to help build your followers!