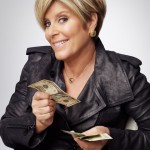 In my article last week: Money – What's it got to do with our inner life? I wrote about how money dilemmas are often symptoms of deeper underlying emotional, psychological and spiritual crises.
Alongside providing financial advise, Suze Orman recommends building inner security, self worth and making the most of what we already have!
In this post, I am sharing 7 of her top tips for managing your money:
1. Track your spending and take a snapshot of your finances
Suze's Says: Only when you have everything in front of you can you set priorities about what to do next.
This means it is time to get real and take an honest look at your finances by firstly calculating your net worth.
Track not only the big expenses like debt, mortgage, car and household bills but also your smaller spending such as alcohol, lunches, coffees and magazines.
Once you have done this you can create an average monthly expense sheet and get honest about where your money is going.
There are some great apps to help you or you can track your spending and create a budget/ finance management system the old fashion way with printables .
2. Cultivate self-discipline
This is about untangling your wants from your needs.
Suze Says: Pull out your three most recent bank and credit card statements, circle every charge or debit that is not a necessity, and ask yourself, "Can I eliminate this cost entirely?" If not, can you scale it back 30 to 50 percent? Every time you cut expenses, you can put the money toward your bigger goals.
3. Adopt a fool proof credit card strategy
Whilst the housing and stock markets are out of your control, your credit card debt is within your control. Pay off the card with the highest interest first and always pay more than the minimum payment if you can.
Suze Says: Make this the year you tackle that credit card debt once and for all. Doing so will make you and your family stronger and happier—forever… Every time you pay off a card with a high percent interest rate, you get a high percent return on your money.
4. Pay as you go
Only spend money you have by using cash or a debit card, rather than a credit card.
Suze Says: That's smarter than using a credit card!
5. Find hidden savings
There are plenty of comparison sites out there so shop around for better deals on your mortgage, insurance, electricity, phone and internet packages.
Suze Says: You're nuts if you don't comparison shop..You could save around 10% or more!
6. Build financial security by saving an emergency fund
Financial emergencies such as an unexpected redundancy or home, car and medical expenses can arise at any time!  It is important you have an emergency fund to help you through tough times.
Suze Says: Keep saving until you have at least eight months' worth of living expenses to keep as an emergency fund.
7. Save for your future
Suze Says: What is it you want in retirement? Whatever that may be, you can no longer count on the government or social security – you must take responsibility for your own future.
Things are a bit different in the US so instead of Suze's 401k advice, check out this Australian superannuation advice from David Koch and two of the best financial experts in the business Daryl Dixon and Trish Power.
References
Want more great resources on money? Check out my Wealth, Finances & Money Pinterest page.
About Jodie

Sydney counsellor, soul-centred life-coach and psychotherapist Jodie Gale, is a leading specialist in women's emotional, psychological and spiritual health and well-being. She has a private counselling, life-coaching and psychotherapy practice in Manly and Allambie Heights on the Northern Beaches of Sydney.
Sign up here for some SOUL in your inbox (aka. latest news, blogs and workshops).