Fat Talk Free Week 2013
This year Fat Talk Free® Week is celebrated during the week of October 21-25. Fat talking is not only the domain of those suffering with an eating disorder – it has crept its way in to everyday society.
When I work with women recovering from eating disorders, they often comment that one of the most difficult parts of their recovery, is hanging out with their existing friendship groups. Whilst many of their friends may not be suffering with an eating disorder, they are however, often trapped in body comparison and obsessively talk about dieting, weight and fitness regimes.
Women, we are so much more than our bodies! It is time to value all of who we are: our body, our feelings, our mind, our sexuality and our spirituality.
What is Fat Talk Free Week?
'Fat Talk Free Week is an international, 5-day body activism campaign to draw attention to body image issues and the damaging impact of the 'thin ideal' on women in society. This annual public awareness effort was born from Tri Delta's award-winning body image education and eating disorders prevention program, Reflections.
The purpose of Fat Talk Free® Week includes:
Educate others about the damaging impact of pursuing the thin ideal and the use of fat talk on women of all ages
Inspire change in the way we think and feel about our bodies
Promote a healthy lifestyle and one that urges individuals to live a balanced life in mind, body & spirit.'
(Reference: Tri Delta BodyImage3D®)
I'm fat talking – what can I do?
If you and /or your friends are fat talking – pass on the above video, the Tri Delta BodyImage3D® website and check out my Fat Talk Free 2012 blog for loads of tips about losing the fat talk.
 About Jodie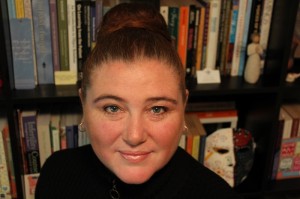 Sydney counsellor, life-coach and psychotherapist Jodie Gale, is a leading specialist in women's emotional, psychological and spiritual health and wellbeing. She has a wealth of personal and professional experience and knowledge in the field of addiction and eating disorders. Her experience includes a Master's thesis on eating disorders titled 'Call off the Search: Eating Disorders a Symptom of Psychospiritual Crisis', (you can read an excerpt here); post graduate training in addiction and 'women's business'; work experience in the 'Eating Disorder Unit' at Great Ormond Street Hospital for Children in London; the Eating Disorders Foundation (now part of The Butterfly Foundation); and Women's Health NSW. She is an EATFED accredited practitioner, an approved service provider for South Pacific Private Addiction and Mood Disorder Treatment Centre and works in private practice, treating eating disorders as well as other women's issues in Manly and Allambie Heights on the Northern Beaches of Sydney, Australia.