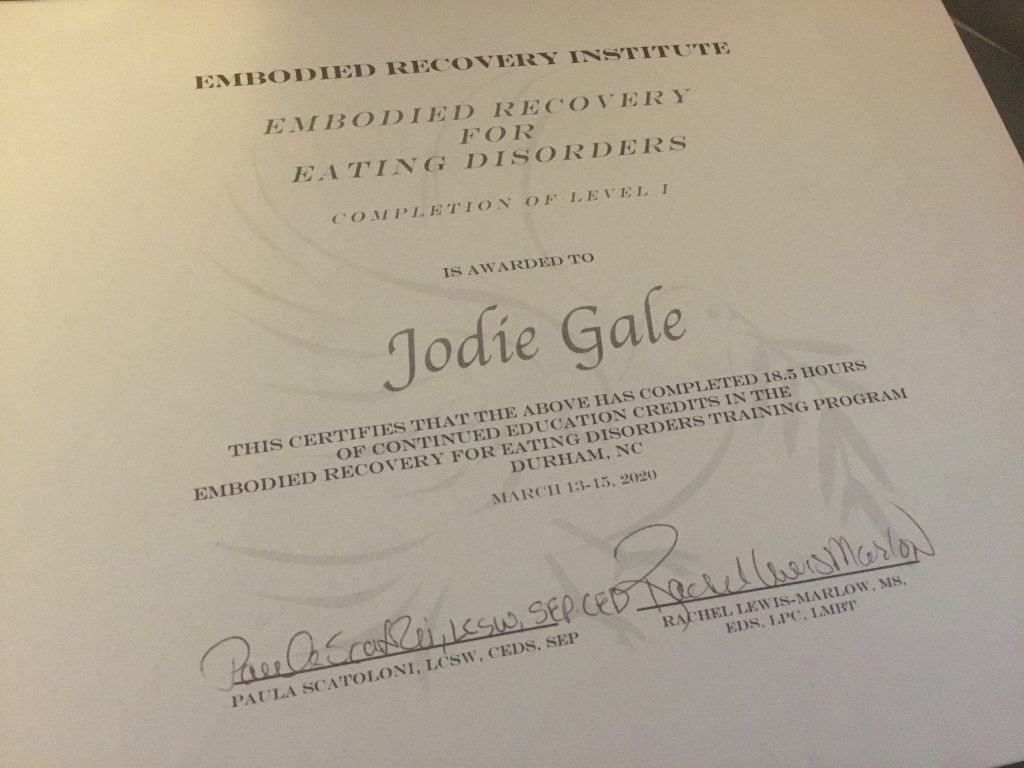 After a somewhat hair-raising trip to North Carolina in March 2020 (due to COVID!), and copious amounts of hand sanitizer later,  I am thrilled to announce that I am now level 1 qualified in the Embodied Eating Disorder Recovery Model. Embodied Recovery was developed by somatic-based psychotherapist, Certified Eating Disorders Specialist, and Somatic Experiencing™ practitioner Paula Scatoloni, and somatically integrative psychotherapist and Certified Advanced Practitioner Sensorimotor Psychotherapist, Rachel Lewis-Marlow.
This training included an opportunity for me to expand on my own level of embodiment, gain skills in co-regulation, and expand my knowledge of somatic interventions that work directly with the attachment and regulatory systems driving disordered eating behaviors.
The Embodied Eating Disorder Recovery training included the following:
Scientific and theoretical rationale to support a somato-psycho-social model.

Skills to support the body as a "resource" in recovery rather than an "obstacle" to recovery.

Expanded awareness about the role of our physiology in attachment, defense, emotional regulation, memory consolidation, and eating disorder symptoms.

Tools to understand the language of the body and shift the focus away from "what clients say about the body" to "what the body is saying".

A new definition of "eating disorder recovery" as an experience of embodiment rather than the absence or reduction of eating disorder symptoms.
As always, I look forward to incorporating this training into my own life, and in my work with women in Australia.
x Jodie
P.S Join the wait list for my online course: TRANSFORM YOUR RELATIONSHIP WITH FOOD, BODY & SOUL®