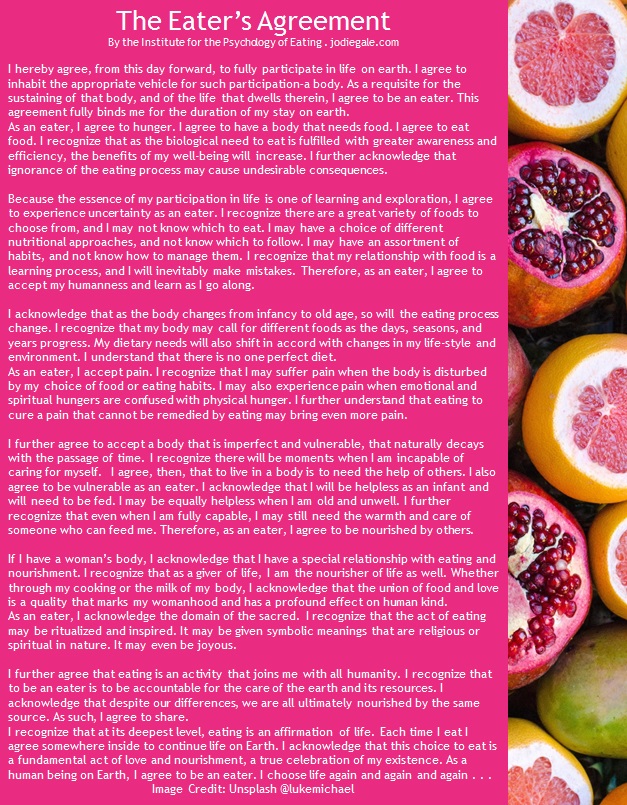 The Eater's Agreement from Nourishing Wisdom is a useful tool that can help you to reconnect to the wisdom of your body.
Marc David writes,
"I think you'll find that it gets to the core of who we are as eaters – body, mind heart and soul."
Never has there been a time in history where women have been so confused about what, when, why and how to eat. Disordered eating behaviours that I saw 20 years ago in my practice are now widespread.
Regardless of what brings a woman into coaching, counselling or psychotherapy, exploring her eating and the relationship she has with her body is always part of her journey.
The agreement, that we use as Eating Psychology & Mind Body Eating Coaches is meant as a guide, not a rigid, 'must do' – this is particularly important if you have a tendency towards perfectionism and rules – which to be frank, most people with disordered eating do!
There are so many nuggets of wisdom here – try using one or more statements from the Eater's Agreement as a daily meditation, reflection or commitment to reconnecting to your own body's wisdom.
So many people find this agreement to be extremely profound and powerful. Is there a specific statement or section that speaks to you?
Do you want to transform your relationship with food, body & soul®? Start here by clicking on the link for a copy of my free eBook, 4 Ways to Befriend Your Body.