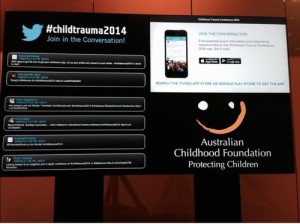 I recently attended the Australia Childhood Foundation International Child Trauma Conference in Melbourne with keynote speakers Dr Dan Siegel, Dr Dan Hughes, Pat Ogden and more…
To ward off my post, 'best conference ever' blues, I interviewed Lauren Thomas, the Online Professional Community Manager at the Australian Childhood Foundation. I hope you enjoy the interview and if you are a professional – put this one on your to-do list!
My apologies, this link has been removed from Australia Counselling under new ownership.
What is the Australian Childhood Foundation International Childhood Trauma Conference?
"Our International Childhood Trauma Conferences are an incredible week-long event for professionals who work with children, young people and their families in settings of abuse, violence and trauma. Delegates get to meet and hear from the worlds leading thinkers in the field; researchers, practitioners and young people who have been in care."