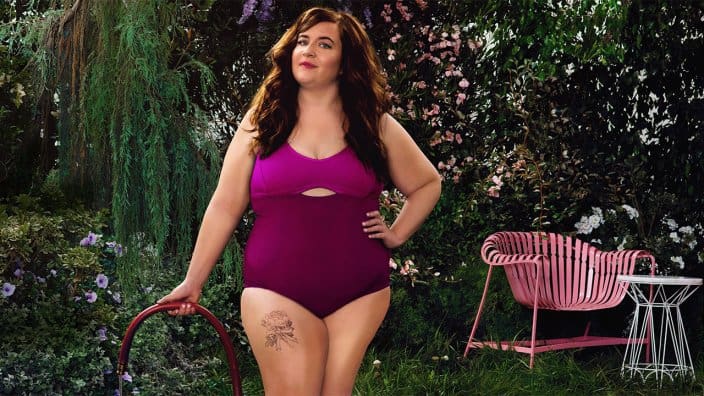 Photo Credit: SBS On Demand
In this body positivity blog, I am going to share with you my top 15 binge-worthy shows that will help you embrace body diversity, body positivity and body love.
In Vice, Sophie Cater-Kahn writes,
"At its core, body positivity is a feminist political movement, that centres on some of the most marginalized – fat people, very fat people, people of colour, people marginalised by gender, disabled people – and works for social and political change to make the world a safer place for bodies of all kinds to live in."
Internalised weight stigma and fat-shaming are on the rise, not only for women who are in big bodies but for women of all shapes and sizes.
With summer (down under), Christmas holidays and the new year just around the corner, the upcoming season can be stressful and challenging, particularly for women who are struggling with food, weight and body image concerns; it is virtually impossible to avoid the relentless marketing and advertising which targets women online and in-store to become 'healthy', to 'lose weight' and become 'beach body ready'.
If all of the above is part of your yearly ritual of self-abuse – instead of bingeing on diet books, body transformation programs and self-loathing, binge on these body diverse and body-positive flicks – they will no doubt help you move one step closer to accepting, embracing and loving your body – regardless of its size!
Shrill
Shrill has been described as the Mona Lisa of body-positive television.
It's about Annie, a struggling young journalist who is determined to change her life without changing her body. Within the first few scenes, Annie is repeatedly fat-shamed by strangers and told by a fitness instructor, 'I know there's a small person in there who wants to get out!"
Sophie Carter-Kahn writes,
'There may well be someone inside Annie "waiting to get out", but it's not a thin girl in activewear.'
I loved watching Annie, where over the course of the series, she becomes increasingly confident, outspoken and more comfortable in her own skin.
Shrill is currently showing in Australia on SBS On Demand.
I Feel Pretty
Renee, played by Amy Schumer, works in media and fashion and feels ashamed of her size in such a patriarchal, body-image imposed work and life environment.
During a spin class, Renee bumps her head and wakes up believing that she is size zero – this results in her feeling super confident.
This movie didn't get the best reviews but I laughed out loud a few times and could certainly identify with many of the body-shaming themes and its key message, which is ultimately about body-positivity.
I Feel Pretty is available in Australia on Foxtel, Google Play and Apple TV.
Dumplin

Dumplin is a heart-warming musical about a rebellious teenager, beauty pageants and a 'beauty queen' mother (Jennifer Aniston) who grapples to accept her daughter's weight.
I loved the Dolly Parton quotes and soundtrack which serves the purpose of encouraging self-love in a world where living in a fat body is often seen as a personal failure and a crime.
Dumplin is available to view on Netflix.
Orange Is the New Black
OITNB is set in a low-security women's prison. The cast is diverse and made up of women who are different shapes, sizes, colours, races, ages and sexual orientations. The focus has little to do with any of these things, it's on their stories!
Mammamia writes,
"It's ground-breaking. It's spirit-lifting. It's fist-pumping… for once we have a show in which the cast isn't what you'd call the Hollywood standard. It is body diverse and for that reason, absolutely gorgeous."
Now in its seventh and final season, OITNB is available in Australia on Netflix.
Empire
Becky Williams, played by Gabourey Sidibe is one of the first black, plus-sized characters to have sex on primetime TV.
There was a lot of fat-shaming hate online about her sex scene.
Glamour mag says, 'Yes, plus-sized people have sex too – get over it!'
We need more Gaboureys in the world! She is a wonderful role model for women of every size. In Rolling Out, she says,
"While it makes me nervous to represent for anyone, I am extremely proud that some brown, round, little girl sitting in front of the TV can look at me and … [know] that she has some value. That is the most important thing in the world."
Empire is available to view in Australia on Foxtel.
This Is Us
This Is Us has received criticism due to Kate's focus on her weight loss endeavors and her negative body image. For me, This Is Us highlights the struggle so many women have about their bodies, their size and their worth.
Christopher Rosa writes,
"For the first time we saw up close and personal what the path to self-love and body acceptance looks like. It's more than just snapping a gym selfie; it takes work. And most of that work has nothing to do with losing weight, a theme that slowly but surely found its way into Kate's storyline."
This storyline is great for cultivating empathy for people who struggle with their body size.
This Is Us is available to view in Australia on Channel 10.
Girls

Girls is a series about Hannah, who is trying to make a life as a writer, and her group of friends. Hannah is, 'incredibly body positive and boasts an empowering message: Live your GD life—whether that means eating cupcakes naked in the tub or having a fling with a surf instructor. The world is your oyster when you're comfortable in your own skin (Glamour).'
Girls is available to view in Australia on Foxtel.
Gilmore Girls
Gilmore Girls isn't without its issues but what it does get right is that Sookie, played by Melissa McCarthy, is a fully fleshed-out character. The storyline with Sookie and Jackson, solely focuses on their relationship and her body size isn't highlighted at all.
Gilmore Girls is available to view in Australia on Netflix.
To The Bone

There was mass hysteria, controversy and widespread criticism by parenting groups of To the Bone, particularly in relation to the dysfunctional family storyline which is the backbone to this movie. There is increasing evidence to support the links between childhood emotional neglect, trauma and eating disorders so I fully support this storyline as one cause of eating disorders.
I thought To the Bone did an OK job at size diversity  – there were people in a few shapes and sizes in the group home.
To the Bone is ultimately a story of hope and recovery. You can read my full review at To the Bone Review.
To the Bone is available in Australia on Netflix.
Embrace: The Documentary
Embrace: The Documentary is produced by Taryn Brumfitt, who founded the Body Image Movement, a global campaign to help women find body-positivity; the value and power of loving their bodies from the inside out. Taryn shot to fame after posting her before and after photos on social media.
Sydney Film Festival writes,
"When body image activist Taryn Brumfitt posted an unconventional before-and-after photograph in 2013, it was seen by more than 100 million worldwide and sparked an international media frenzy. In her forceful debut, Brumfitt continues her crusade exploring the global issue of body loathing. She travels the world to interview an impressive range of women about their attitudes to their bodies, including Mia Freedman, the youngest ever editor of the Australian edition of Cosmopolitan; Emmy Award-winning television presenter Ricki Lake; Adelaide researcher Professor Marika Tiggemann; UK talk show host/photographer Amanda de Cadenet; body image blogger Jes Baker (a.k.a. The Militant Baker); and motivational speaker Turia Pitt." 
Embrace is such an important resource – it offers hope to those who suffer with food, weight and body image concerns, and education to those in the health, diet and exercise industries. It is essential viewing for anyone who fat shames self and/or others!
Embrace is available in Australia on Kanopy.
Beauty Shop

Gina – Queen Latifah's character in Beauty Shop – is curvy and super confident!
In From B.A.P.S. to Shrill: How Black Plus-Size Women Have Shaped the Romantic Comedy Genre, Shammara Lawrence writes,
"In one of the early scenes, Gina asks her daughter if her butt looks big in a particular pair of pants, to which her daughter responds, "Yes." Without missing a beat, Gina endearingly slaps her derriere and enthusiastically says, "Good!" And… "when it comes to her romance with Joe, Gina is completely self-assured in her attractiveness and, as a result, the two develop a sweet romantic bond that can warm even the coldest of hearts."
Beauty Shop is available to view on STAN.
RuPaul's Drag Race
The most successful drag queen in American history ends every episode of this long-running reality-TV show with, 'Remember, if you can't love yourself, how in the hell are you gonna love somebody else?'
This series highlights the contestants' struggles with self-hatred, homophobia, white and thin privilege, body image, self-worth and early childhood traumatic experiences.
RuPaul teaches us to love our unique bodies, regardless of our size or how many rolls we have. It will definitely help you on the way to embracing body diversity, feeling positive about, and loving your body!
Ru Paul's DragRace is available on Stan.
Tall Girl
Jodi, the tall girl, is constantly teased because of her height. She struggles to fit in at school and at home (her sister is classically beautiful and a beauty queen).  I enjoyed this movie with its uplifting and empowerment ending  – it will definitely help you on your way with body diversity, body positivity and body love.
The Tall Girl is available to view on Netflix.
Glee

'..Glee investigates body image and intersections with gender, social class and ethnicity'  – Sonya Brown in Body Image, Gender, Social Class, and Ethnicity on "Glee"
Part musical, part drama and part comedy, Glee premiered in 2009 and in so many ways was ahead of its time. Glee is much loved because of the diversity of characters, the everyday teen struggles that we can all identify with and of course the great musical soundtrack.
I am impatiently waiting for my kids to grow a couple of years so I can watch it all over again!
Glee is available on Netflix.
Hannah Gadsby: Nanette

I knew I had to watch this one when over half of my clients recommended it in the same week! It's powerful.
Nanette deals openly with themes of sexism and homophobia, the objectification of women's bodies, sexual abuse and the #MeToo movement, and those who feel powerless and who are struggling in the toxic culture of silence. Ultimately, it's about feeling broken and learning how to rebuild one's sense of self.
Nanette is available to view on Netflix.
Join the wait list for my online course: TRANSFORM YOUR RELATIONSHIP WITH FOOD, BODY & SOUL®